Riverlane
Physics of Life
SARS-COV-2
On Friday 10.07.2020, Dr Jonathan Bean (left), Jacob Lee (Middle) and Prof Lindsay Greer (right) were awarded funding from the BBSRC (PoLNET3; 2020-2023).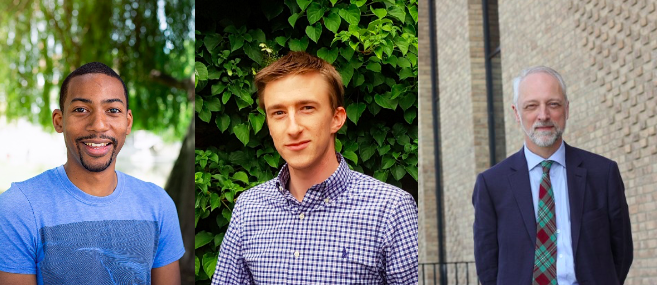 The funding will be used to investigate SARS-COV-2 to understand further what gives rise to virus inactivation on different surfaces including metallic glasses. The research follows on from work performed by the group to further understand the advantage of amorphous materials on deactivating the virus. The result of the work could be used to enhance de-activation processes on PPE or other commonly touched surfaces in toilets or restaurants to minimise transmission of SARS-COV-2 or any other virus or bacteria.
The research is not specific to COVID-19 and is applicable to other bacteria and viruses. We will also explore the feasibility of whether studies of viral transmission can be undertaken on Quantum computers facilitated by Riverlane to demonstrate quantum advantage.
Any questions can be addressed to:-
Dr Jonathan Bean (jb2191@cam.ac.uk) [University of Cambridge]
Dr Karis Baker (k.h.baker@durham.ac.uk) [Physics of Life]
Dr Steve Brierley (steve.brierley@riverlane.com) [Riverlane]
The Physics of Life is a community driven network consisting of scientists from the physical and biological sciences. The Physics of Life network first began its journey in 2012 (PoLNET1; 2012-2016), it then moved to a second phase (PoLNET2; 2017-2020) and is now at the beginning of a third phase (PoLNET3; 2020-2023). The third phase of the network has also broadened its ambitions to specifically encourage engagement from clinical and medical communities through the formation of a new, separate arm to the network 'Physics of Medicine, 2020-2023'.
Riverlane builds ground-breaking software to unleash the power of quantum computers. Backed by leading venture-capital funds and the University of Cambridge, they develop software that transforms quantum computers from experimental technology into commercial products.